If you were a little overwhelmed with yesterday's Bosnian linkfest, do at least check out this site. Amazing photos from a journalist who was there during the entire war.
the site for the book, Blood and Honey (on photoarts)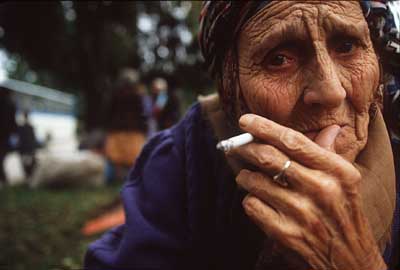 the book (I just bought the 9 clam used copy, sorry)
"First I was a Yugoslav. Then, I was a Bosnian. Now I'm becoming a Muslim. It's not my choice. I don't even believe in God. But after two hundred thousand dead, what do you want me to do?" –A resident of Sarajevo
I was/am profoundly impacted just by this website. This photographer captured more than words could possibly say in just a few images. I do hope you take the time to explore this photoessay and to think about what happened in Bosnia, and about the effects of war, "just" or no.