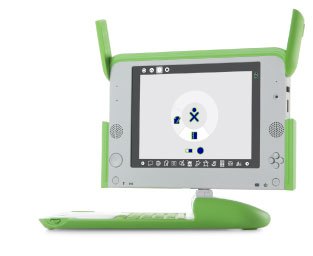 Now that I've done it, I'll tell you about laptopgiving.org and One Laptop Per Child's "Give One, Get One" deal. US/Canada only, and it comes out to $423.95 with shipping, $200 of which is deductible.
The mission of One Laptop Per Child (OLPC) is to empower the children of developing countries to learn by providing one connected laptop to every school-age child. In order to accomplish our goal, we need people who believe in what we're doing and want to help make education for the world's children a priority, not a privilege. Between November 12 and November 26, OLPC is offering a Give One Get One program in the United States and Canada. During this time, you can donate the revolutionary XO laptop to a child in a developing nation, and also receive one for the child in your life in recognition of your contribution.
Whoever thought up this campaign is pretty genius. It works on a number of psychological and practical levels.